Crucial weeks for Bayern coming up
Submitted by

isport

on Fri, 10/27/2017 - 10:22
Jupp Heynckes has made the perfect start to his fourth spell in charge of Bayern Munich, winning all three games without conceding a goal. But with huge matches coming up in both the Bundesliga and the Champions League, the veteran manager is about to find out a lot more about his current squad.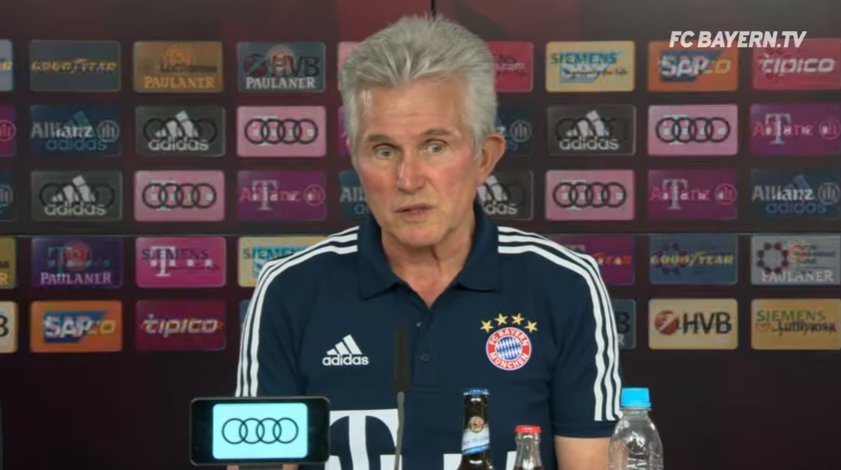 Because let's face it, this is the same group of players that started the season sluggishly under Carlo Ancelotti. He may have made a good start, but Heynckes' selection headaches could intensify in the coming weeks, particularly when you consider who his side will up against.
Chances Rated
How do those trusted arbiters the bookmakers see things? Dortmund may be leading the division but they are the outside option for the title at 4/1. Bayern, on the other hand, remain very short at 1/3 across the board but we should be back that with confidence or look for some free bets from across the sportsbooks as opposed to playing with real cash?
Next up for Bayern is a difficult clash with one of the realistic challengers to their Bundesliga crown. Red Bull Leipzig have already ended Borussia Dortmund's 41-game unbeaten run at home with a 3-2 victory at Westfalenstadion earlier in October. The Allianz will be an even bigger test for Ralph Hasenhuttl's side, but underestimating them would be foolish.
After that it's a trip to Celtic Park in the Champions League. Bayern could ensure safe passage through to the knockout stages with a win, but the Scottish champions will be equally determined to secure a victory. The first game of November, Dortmund away, is as tricky as they come. Thoughtful rotation may be the only way for Bayern to get through the next three matches unscathed. Thankfully, the manager has a number of options to keep his opponents guessing despite a few fitness concerns.
Opportunity
When Heynckes was re-appointed, everything was set up for Thomas Muller to enjoy a welcome second phase of his Bayern career following a tough spell under Ancelotti. But the hamstring injury he suffered in the win at Hamburg means he will miss the next three weeks of action. While it's a blow for both the player and the team, perhaps James Rodriguez will now get the chance to properly introduce himself to the Bayern supporters and his new manager.
The Colombian lasted only 45 minutes in Hamburg before he was substituted for Muller, who then set up Corentin Tolisso's winner before having to be substituted himself. Ancelloti's departure must have been worrying for James - it was the Italian who insisted the club took him from Real Madrid on loan - but Muller's absence means a place in the starting line-up is up for grabs in Leipzig.
Speaking of Tolisso, does he have a definite future in the team? The Frenchman partnered Arturo Vidal in the centre of midfield last weekend, and while his inclusion paid off, there are questions marks over which two members of the squad should regularly play together in the midfield pivot of Heynckes' preferred 4-2-3-1 system.
Filling in
Thiago Alcantara filled one of those spots in the recent victories against Freiburg and Celtic, partnered by two different players: first Javi Martinez, then Sebastian Rudy. Martinez is a familiar option for Heynckes, who successfully coupled the Spaniard with Bastian Schweinsteiger in the 2012/13 treble-winning campaign. Thiago is arguably more dynamic than Schweinsteiger but lacks his strength - Vidal might be a firmer choice when a stronger core is needed.
Regardless of who Heynckes picks in midfield from game to game, the personnel he has at his disposal is the envy of most clubs in Europe, and not just in the middle of the park. The wide positions also throw up some interesting questions: are Arjen Robben and Franck Ribery still fit enough to replicate the industrious roles Heynckes had them employ in 2012/13?; Will the temporary boss put his faith in the squad's younger attacking players like Kingsley Coman? Only time will tell.
The next three matches will give Heynckes a clearer indication of how many fronts Bayern can realistically challenge on in 2018. If things don't go well, there is the option to add to the squad in January, but will star players want to join a team unaware of who will be in the dugout next season? Perhaps the best thing the club's hierarchy could do is announce who will take over next term sooner rather than later. Maybe that's the best way to help Heynckes finish what he has started for the fourth time.
2016 © Copyright information